Staff Directory 
CEO & Operations
Onyx Starchild
Night Starchild
Decoration Service
Onyx Starchild
Abraa Xue
Customer Service
Night Starchild
Abraa Xue
Judithan
Estate Managers
Onyx Starchild
Trail Lauridsen
Judithan Resident
Corporate Avatars
PetrichorDeer
PetrichorStag
PetrichorWolf
Maakje Klaar
Petrichor (/ˈpɛtrɪˌkɔːr/) is the earthy scent produced when rain falls on dry soil.
Click here to teleport to our in-world Rental Office
If you are looking for a peaceful escape from the hustle and bustle of everyday life, All Petrichor Properties in Second Life are each carefully designed to be perfect place to be. Surrounded by an enchanting landscape and lush rural environment, these (optionally pre-decorated) lodges, cottages, and homes offer unparalleled privacy with their own Caspertech security system. Enjoy breathtaking views of rugged nature as you relax in your own secluded paradise. With its stunning scenery and luxurious amenities, any Petrichor Property is sure to provide a tranquil retreat that will leave you feeling refreshed and rejuvenated.
Crystals, and hot springs can be found on each one, providing residents with spiritual nourishment and relaxation. Petrichor homes are specially chosen for their large windows that open up to the great outdoors. When summer comes around, these dwellings are even more inviting as they transform with the changing seasons. Whether you're looking for peace or adventure, there's something special about living in harmony with nature!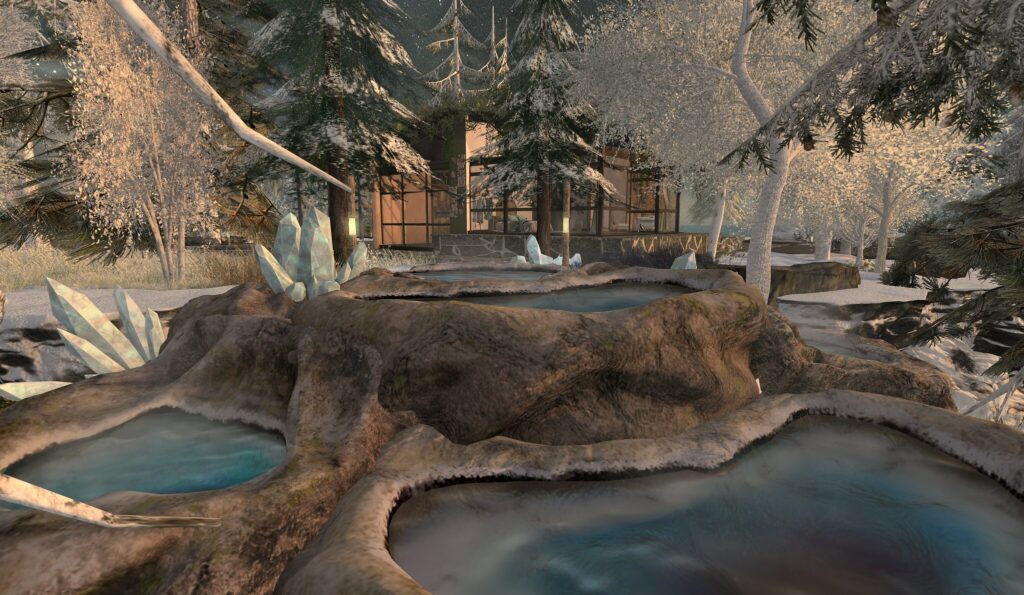 If you are looking for a unique and stylish way to decorate your home, look no further than Onyx Starchild or Winter Rose! Onyx provides an exquisite classical style, incorporating only the highest quality materials like Nutmeg and Apple Fall. Yet with customized animations from Ruckus and the likes, compatible with P&V, ensuring that your home not only looks its best, but is also fun to use. Meanwhile, Winter Rose offers an eclectic and unconventional approach to interior design, creating outstanding visuals. For those who prefer a DIY project, there is always the option of decorating your own space – but why not take advantage of these amazing services?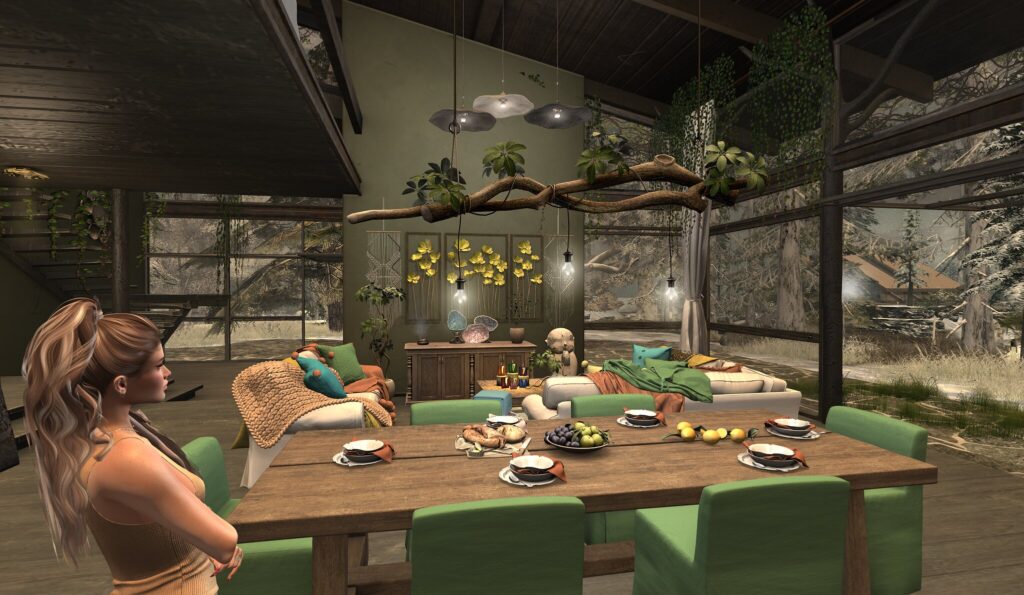 Petrichor is a unique and luxurious residential community that offers more than just a place to live. With its public community area, Petrichor provides an opportunity for residents to host special events like weddings or to simply enjoy some leisurely time with friends playing games on the provided game tables. A visit here will show you why it's one of the most sought-after places in Second Life! Not only can you experience nature at its best, but also enjoy all the modern amenities and luxuries that come with living at Petrichor.
Our in world rental office features a 3d map that gives you an oversight of the neighbourhoods.
Click here to teleport to our in-world Rental Office